The Text Editor toolbar comes equipped with functions that allow Forexmosphere members to easily add links, images, video embeds, widgets and (in some locations) file attachments to this network. Use the toolbar to quote others, format your text, or add your own HTML.

To insert a link, click on the link icon in the toolbar. In the box that pops up, type or paste the URL you want the text to link to. In the Link Text section, enter the text to display on your network. To add a link to existing text, highlight the text, click on the link icon. The Link Text field will already include that text.
To insert an image to your post, click on the image icon, which looks like a framed picture, in the toolbar. A window will appear prompting you to select a photo from your computer to upload. You also have the option of clicking on the "From a URL" tab to add an online image to your post. Determine from the Layout section how you want your image to be aligned.You can specify a number of pixels to add space around your image. The Link field will be default be your image's URL, but edit it to take members to a specific page or website of your choosing. If the image is too wide or narrow, change its width here, as well.
When you're done, click "OK" to apply these changes to your post.
To embed a video, click on the media icon, which looks like a film strip. A window will pop up with a space for you to paste in your HTML embed code. This can be a video or a widget. When you publish your post, anyone will be able to see the video.
To paste text as plain text, click on the "T" paper icon. If you are pasting text from a Word document or other source, you may encounter some issues with character limits, as formatting and hidden HTML elements will likely be carried over. Pasting text as plain text will help avoid this issue.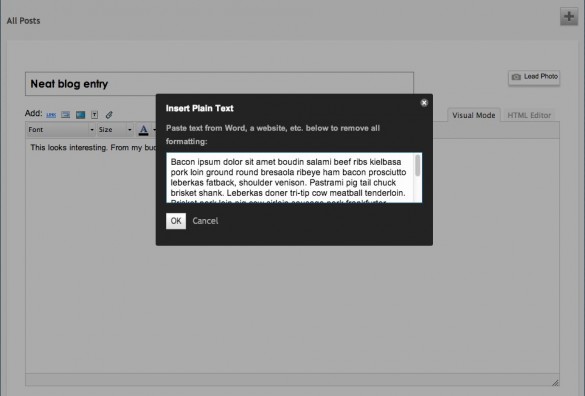 Finally, you can upload a file by clicking the paperclip icon. Anyone will be able to download the file by clicking it.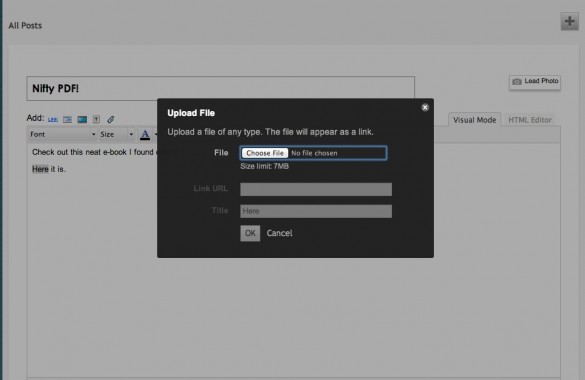 You can upload files to a forum or blog post.